---
Online Court Booking
Perfect for Tennis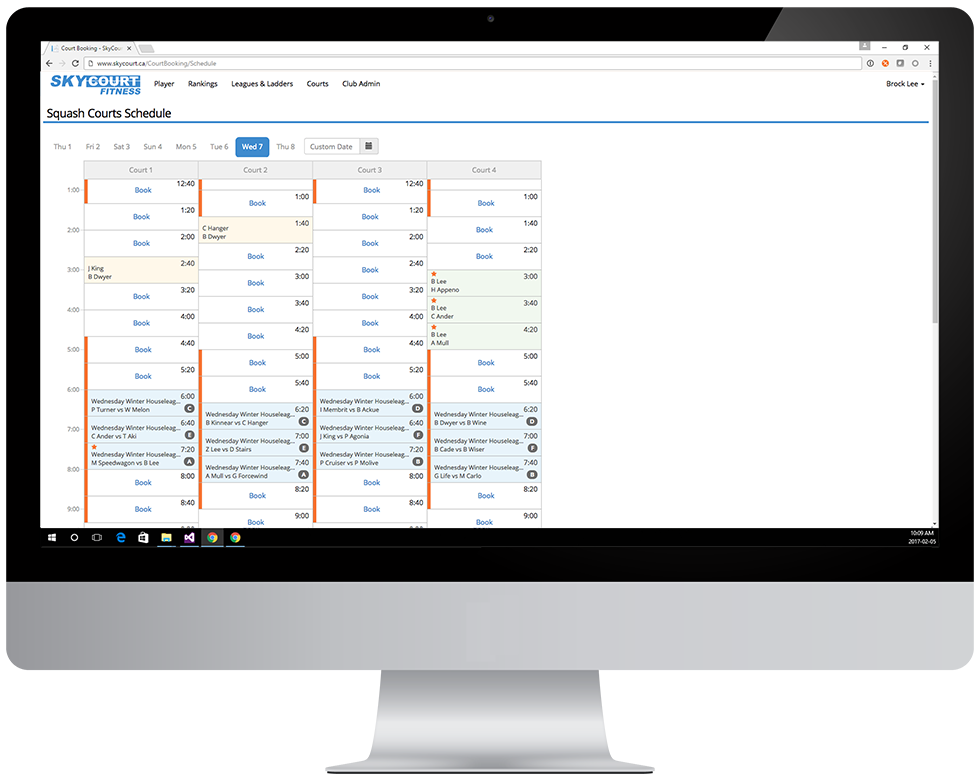 Times have changed. Calling the front desk to book a court used to be a nice touch, now it can be a reason members don't use the courts.
More and more members are demanding online access to booking courts. With SkyCourt online court booking is simple, powerful and integrated.
Tennis Booking Features
Flexible Schedule
Allowable booking times can be different for each day of the week to match our club's operating hours.
Each court can have a different starting time relative to the overall schedule.

This allows you to provide the most number of starting times available.
An example might be tennis courts with 60 minute times, but 2 of the 4 courts are offset by 30 minutes. This provides greater flexibility to your members with twice as many starting times available.

Anonymize the schedule display for greater privacy or show members who have reserved the court times.
Specify your courts as mixed use so they can be booked as singles or doubles courts.
You can control how your members book courts with control over:

number of days ahead courts can be booked
number of back to back bookings allowed
number of overlapping bookings allowed
solo practice bookings
guest bookings
optionally require specifying opponents and a partner
daily limits for singles or doubles bookings
You can define up to 3 sets of Prime-Time hours per day.
Even with Prime-Time hours defined, certain days can be configured to not have Prime-Time hours, such as weekends.
Courts booked during these Prime-Time hours can have different rules applied, such as not allowing back to back bookings or not allowing solo practice booking.
Prime-Time Hours can have a different number of days ahead that they can be booked relative to non-prime-time courts.
Multiple court groups
A court group is a set of courts that share the same rules and schedule.
You can define a court group for your indoor courts and another court group for your outdoor courts, allowing your outdoor courts to have its own schedule and rules.
Support for membership types
Any number of membership types can be created.
A member can belong to any number of membership types.
Court booking uses the member's type to select the set of rules to apply when viewing and booking courts.
Different membership types can have different number of days ahead to book and different sets of rules to be applied.
Court bookings can even be prevented unless a member has a certain membership type. This is great for separating your tennis players from, say, your pickleball players
Fees
SkyCourt supports charging fees for court booking.
You can define packages of minutes that are purchased by members and used as they book courts.
You can "gift" minutes to members as rewards or compensation for activities.
At the end of each day or month, run the cash flow or revenue recognition reports to see how much money is coming in from court use.
Optimized for Mobile
Members can use their mobile phones to quickly view and book courts while court side or on the go.
The mobile optimized design efficiently scales from one court up to many courts on the mobile phone view, allowing the member to get a birds eye view of the availability.
Front Desk Role
There will always be members who need or want to book a court through the front desk.
SkyCourt provides a dedicated front desk view that provides easy access to the schedules of each court group and allows quick booking.
The front desk role has been optimized to speed the processing of operations to keep that front desk person free for the next member.
TV Display mode
Display your court schedules on big screens around your club.
The displays can show a single court group, or can be configured to show multiple court schedules.
The displays update automatically as courts get booked and they stay up to date with the current time, always showing the currently active court slots.
Reporting
At any time, you can view a report of court utilization.
You can also see what percentage of court slots are being booked by the front desk vs members.
You can use the reports to see if you can squeeze in a new league on Monday nights, or Thursday at lunch.
If you charge fees for courts, you can also get a cash flow and revenue recognition report.
If you have a particular report you have found useful in the past, let us know and we will add it to the software.
Contact tracing report in case a member gets a contagious illness such as Covid-19