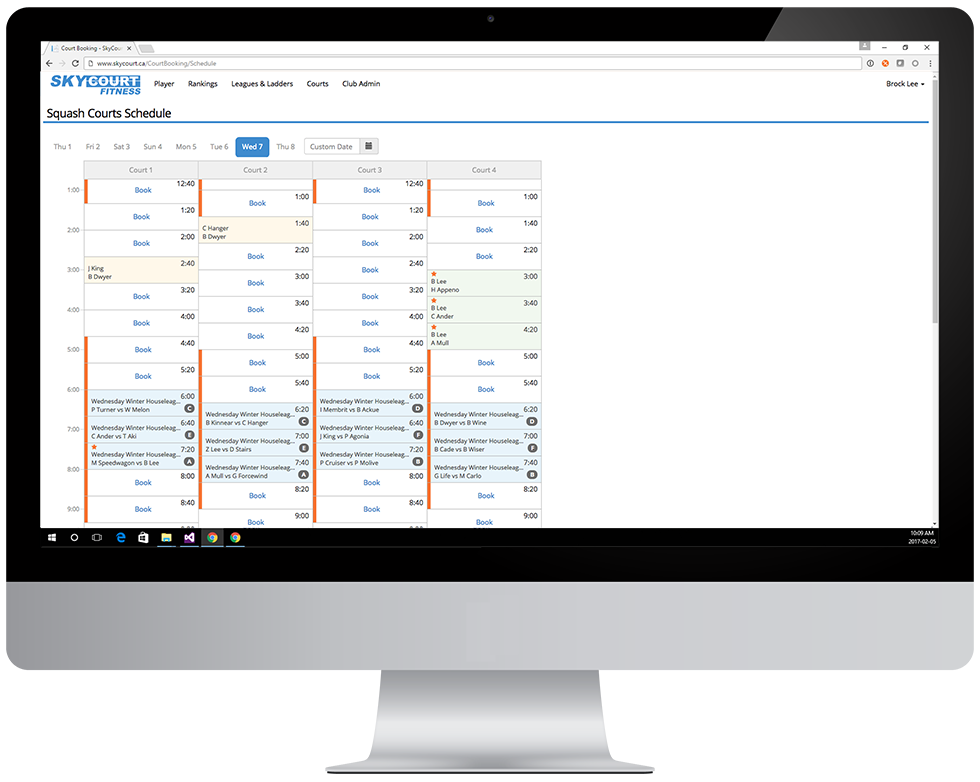 Times have changed. Calling the front desk to book a court used to be a nice touch, now it can be a reason members don't use the courts.
More and more members are demanding online access to booking courts. With SkyCourt online court booking is simple, powerful and integrated.
Court Booking Features
---
Court Groups

Many groups of courts can be created. Each group will share the same rules and schedule. Typical court groups include Squash Courts, Tennis Courts, and Outdoor Tennis courts.

Flexible Times

Each court group can have a different set of booking times. Within each court group, the times can be different per day to match your club's operating hours. You can even have different courts start with a different offset so that you maximize the number of starting time options you have with the limited number of courts you have. Fourty minute courts are fairly standard. To turn this into court times starting every 20 minutes, you can set two of your four courts to have 20 minutes offsets.

Flexible Rules

You can control how your members book courts. Do you want to allow or encourage solo practice? Do you want to allow matches against guests? Or can members book back to back courts? All of these aspects and more can be configured.

Prime Time Hours

You can define up to three sets of prime time hours and each set of prime time hours can be different per day. Courts booked during these prime time hours have an alternative set of rules applied. For instance, you may allow back to back court bookings as long as it is done outside of prime time hours.

Court Fees

Charge fees for court times and control how members are charged for those fees. At the end of each day, or month, run the cash flow or revenue recognition reports to see how much money is coming in from court use.

Mobile

Players can use their mobile phones to quickly check court availability while court side or to book a court when they are on the go. The mobile optimized design eliminates the pinching and zooming other vendor solutions require when booking a court on a mobile device.

Front Desk Role

There will always be members who need or want to book a court through the front desk. SkyCourt provides a dedicated front desk view that provides easy access to the schedules of each of the court groups, allowing the front desk to quickly see which courts in the next few hours are free and allows the front desk to book on behalf of the members. You get the best of both worlds, an online automated booking system and the personal touch of front desk booking.

TV Display mode

Display your court schedules on big screens around your club. These displays update automatically as the courts are booked and they continually adjust to show the current time. There are three different types of displays. You can use a single court group display on a TV right next to the courts to show members who should be on the courts next. Or if you have a mixed group of courts, say a singles and a doubles court right next to each other, you can display both group's schedules on the monitor at once. If you have a monitor in a common area, you can display the schedules for all the groups of courts on a single monitor in loop that continually cycle between the different schedules. No matter what your situation, we have you covered.

Sponsor Support

Do you have sponsors for your club? Tin space is no longer the only Ad space you have for sale. Ads can be displayed on the court booking page in a layout that you control. Display and Click through reports can be generated to show your sponsors the amount of value they are getting.

Reporting

At any time you can view a report of court untilization and what percentage of bookings are being done by members vs the front desk vs the sport pro. If you charge fees for court times, then you can also view cash flow and revenue recognition reports. If you have a particular report you would like to see that we don't have, let us know and we can build it.