---
Player ratings and statistics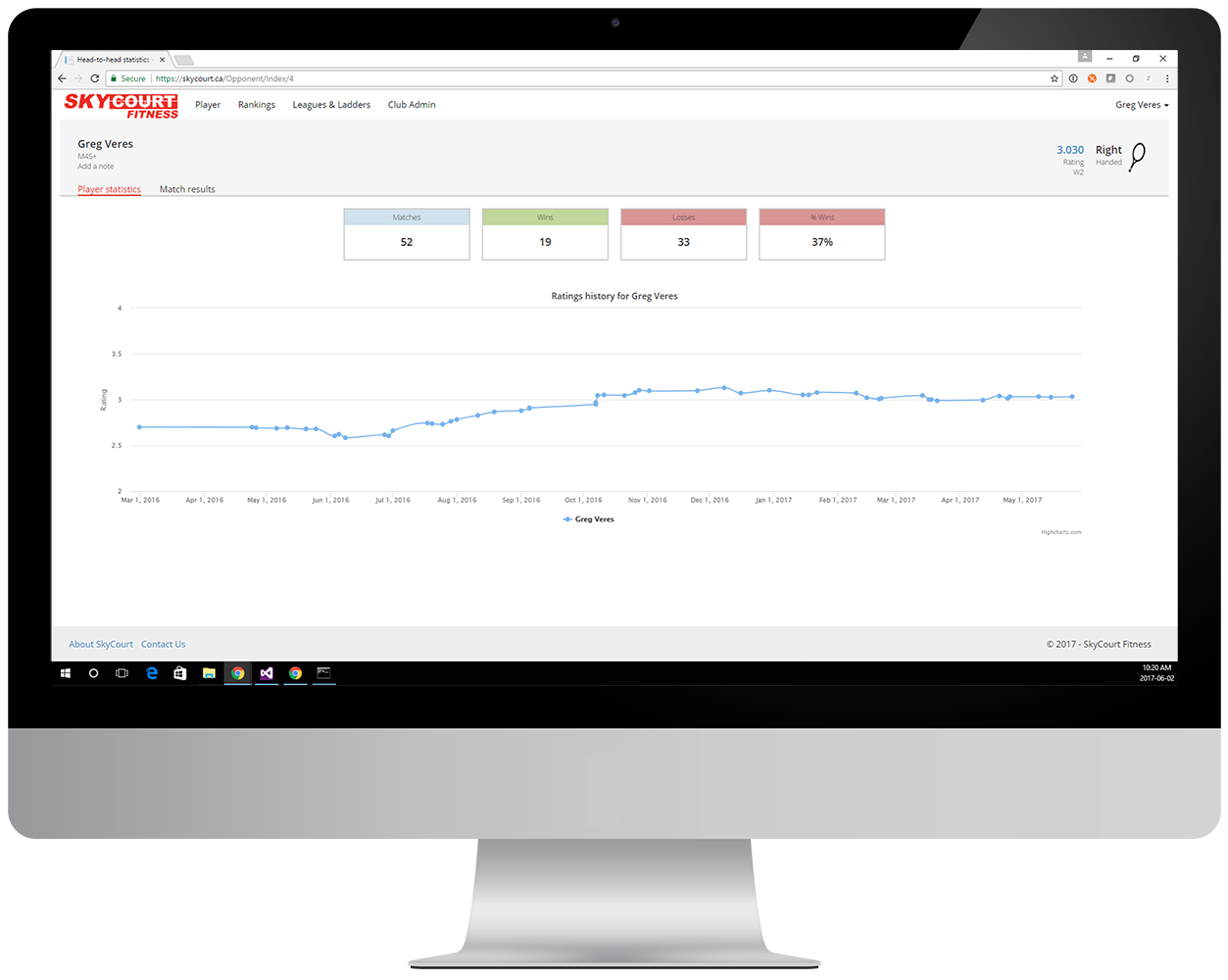 Track player progress with SkyCourt's statistics and ratings
Use a player's rating to find a challenging match with others at the club
Automatic setup for new players
Player Ratings and Statistics
---
Build a competitive environment

Setup ratings to your members can see where they stand in the club rankings. Then setup leagues to give your players a chance to show their prowess and move up the rankings ladder.

Use the ratings to tailor training

Use the ratings as a yardstick for your young player's performance improvement. You can use the ratings as a way to tailor your training based on what they need. Or use the next rating level as a goal for the player to achieve and a reason to stick with the practice sessions. Celebrate the achievement as the player hits that next level, be it 2.000, 3.000 or 4.000.

Easy to setup

Setting up ratings at your club is easy to do. You can rate a few players at the top, middle and bottom, or you can rate everybody and upload those ratings with CSV import. The choice is yours. Ratings spread as competitive matches are played between rated and non-rated players.

Automatic setup for new players

New players will automaticaly get rated by winning matches against rated players. New players quickly find their true rating while in provisional rating mode.

Opponent statistics

Playing somebody new? Or somebody you haven't played in a while? Do you want to know what to expect? Take a look at the Opponent Page to see how you have done against that opponent in the past, your win rate, or how many rating points you have won or lost to that player. And check out the Common Opponents section. It shows you opponents you have in common and each of your records against that opponent. Its a wealth of information to get you psyched up for the match. When you are done the match, enter notes about how your opponent plays, what are their strengths and weaknesses and how you have to play to get the advantage for next time.

Inter-club ratings

The ratings transcend clubs. Entering match results between two members afects their ratings, regardless of which club they belong to. Intercity leagues are a great example where players from different clubs get a chance to play each other. These matches count towards players ratings and start to level up each club relative to the other.