---
House Leagues in SkyCourt
Simple to setup and use. Flexible and powerful to engage your members.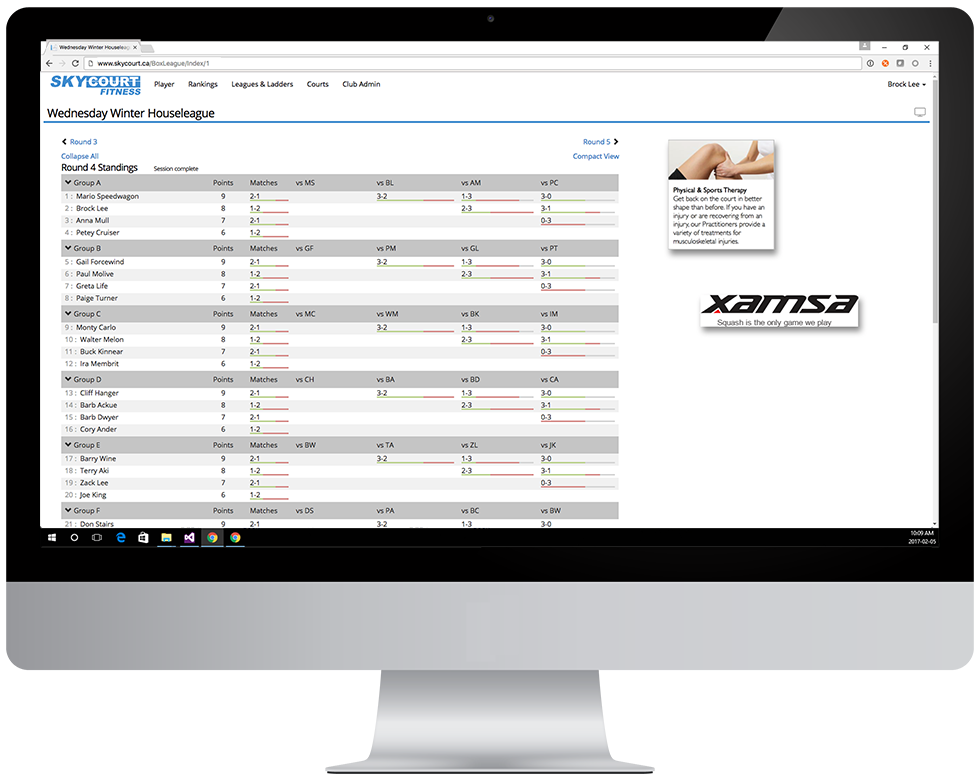 What is a House League in SkyCourt?
A house league in SkyCourt is a scheduled box ladder in the form of a time limited league. (Click here to see the definition of a box league) Think of a house league as a box ladder that starts and ends on particular dates and the matches are scheduled by the system rather than arranged by the members.
A typical house league will run for 1/3 of the year so that the club can run 3 leagues per year. They are typical scheduled to run on a particular day or evening of the week. For instance, the club may choose to run a Wednesday night house league. In this case, all matches would be scheduled on Wednesday nights between the start and end dates of the league.
Since the house league is formatted as a box league, the members are grouped into boxes that play round robins throughout the scheduled dates. When each round robin ends, you can determine how many people will move up and down boxes for the next session.
Typical settings for a house league are 4 players in a box for a 3 week round robin with 1 up / 1 down at the end of each session. This works well with 12-13 week sessions.
Another customer has 12 player boxes because that works very well for scheduling across their 6 courts.
A club can typically charge more for a house league than they can for a box ladder because they are doing more for their customers in a house league: they are providing pre-booked court times. House leagues can also be more social than a box ladder because everybody gathers at the club at the same time to  play their matches so there is more mingling. This works very well if the club has some sort of bar on premise as it can drive more bar sales during league night.
As with a box ladder, a house league can be setup for any of SkyCourt's supported sports, such as Squash, Doubles Squash, Tennis (singles or doubles), Badminton, Pickleball and more.
SkyCourt's House League Features
SkyCourt's house league builds on all the features provided by SkyCourt's box ladder. You can see the box ladder features on this page.
Builds on great Box Ladder features
Easy league setup
Flexible box configuration for number of members in a box and number of members to move up and down.
Flexible scoring rules with available bonus points.
Integration with Player Ratings.
Advertising and Sponsor support.
Integrated member communication.
Mobile optimized workflows.
Flexible Match Scheduling
Matches are scheduled to courts and times each week automatically by the system.
Match length in minutes does not have to match the court booking length. If the length of time does not match, SkyCourt will build a separate schedule for the league and overlay it on the court booking schedule.
SkyCourt automatically books the courts using SkyCourt's online court booking based on the court reservation schedule you create.
A PDF schedule is created that can be printed and posted at the club if  needed.
Scheduling is done to fairly allocate start times and courts to the members. If you have courts that are not all the same quality, SkyCourt will ensure that everybody plays an equal amount of time on each of the different courts and starts at different times each week. Fairness is a key consideration when scheduling.
You can choose if you want players from the same box playing at the same time, or back to back on the same court. Each have their own advantages, so you can pick the approach that suites your needs.
Court Booking Integration
You specify which courts and times to book for the league and the system automatically books the needed number of courts
You don't need to provide the league with the full court slot, you can specify that members have, say, 30 minutes to finish their match, even if your court schedule is based on 40 minute slots. The system automatically books the necessary underlying court times.
Member's names are assigned to each court slot, making it easy to return the court slot to the general pool if the member's can not make their assigned times and reschedule their match.
Mid-session changes
Most other online systems do not accommodate mid-session adjustments.
SkyCourt recognizes that things always come up and accommodates mid-session changes.
In addition to the Box Ladder changes, House League allows the swapping of member's mid session. This allows you to find a replacement for a member who has to drop out of your league mid-session.
SkyCourt makes handling these mid-session changes as easy, or easier than if you were managing the league on paper or in Excel. And best of all, as soon the change is made, the other members will find out instantly without having to notify them or update the paper on the wall.
Looking for a different type of league?
SkyCourt has many types of leagues. Each league type can be setup for any of SkyCourt's supported sports, such as Squash, Doubles Squash, Tennis (singles or doubles), Badminton, Pickelball and more.