---
Box Ladders in SkyCourt
Simple to setup and use. Flexible and powerful to engage your members.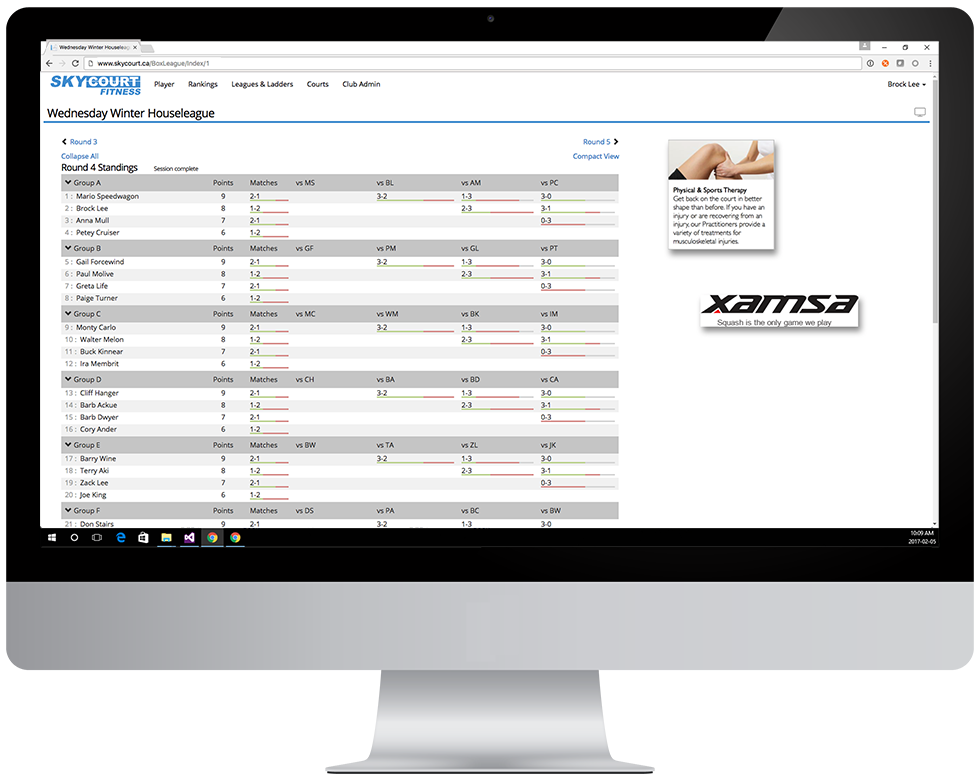 What is a Box Ladder?
A box ladder is a perpetual "league" that provides your members with a set of opponents, of similar skill, to play in a given period of time. They are sometimes called a Box League.
For instance, a typical box ladder contains a set of boxes with 5 players in each box and gives the players 1 month to play their matches. Each player then plays each of the other 4 players in their box within that month. At the end of the month, the scores are tallied and the top 2 players move up to a box, while the bottom 2 players move down a box.
A box ladder is a great offering from a club because it is simple to run for the club and provides a great way for members to find players of similar skill to play.
A box ladder can be setup for any of SkyCourt's supported sports, such as Squash, Doubles Squash, Tennis (singles or doubles), Badminton, Pickleball and more.
SkyCourt's Box Ladder Features
Follow a set of guided steps to tell the system how you want to run your league, from the size of the box and the length of the sessions, to the type of scoring system you want to use
Add members to your ladder and assign them to boxes based on their initial skill level
Publish your ladder for your members to start playing
Specify how many players per box - no limit
Specify how many months, weeks or days the players have to play their matches per session
Specify if your session starts at the beginning of the month, the middle of the month or a specific day of the week
Specify how to handle the un-even number of players. We recommend adding 1 per box starting at the bottom box. It lets your leagues work better.
Scoring: specify how match scores map to points to players
Scoring: allow or disallow certain bonus points to encourage players to get their matches completed within a session
Optionally enforce a deadline for score recording to ensure your league functions smoothly
All league matches update player's ratings
Players are rated from 1.000 to 7.000 based on an initial rating and their match history
An algorithm that has been developed and tested over the past few years is used to update players' ratings based on the recorded match scores
Ratings can be used to create different leagues for different skills of players, or to determine where to add a new player entering the ladder
Advertising and Sponsors
Your club will have a page in SkyCourt where all your available leagues and ladders are listed and advertised. Use this space to entice your members to join one or more of the available leagues
Do you have a sponsor for your ladder? Or do you want to promote something in the pro shop or the club's bar? Each league provides advertising slots on the standings page.
Advertising slots are flexible in terms of size, shape and number of advertisements.
Each advertisement consists of a graphic image and a URL that is visited when the user clicks on the image.
Member communication
Members can communicate through a built-in chat system without having to share their email address.
Chat messages that aren't read promptly in the app are converted to emails sent to the appropriate members
Chat emails are integrated into the member's email system so that they can reply directly from their email client without having to visit the site or use the app.
Club management can send emails to members of the league, either as chat messages or as bulk emails. The bulk emails can be filtered by member's gender, age, status in the league and other characteristics.
Optimized for Mobile
All ladder operations are mobile friendly and can be accomplished from your mobile phone right at the court.
Recording a score has been highly optimized and only requires 3 clicks. It is so easy, there is no reason your members wont do it as soon as they get off the court.
Mid-session changes
Most other online systems do not accommodate mid-session adjustments.
SkyCourt recognizes that things always come up and accommodates mid-session changes.
Members can step out of the ladder any time they need to, either immediately due to injury or for the next session if they know there is a vacation coming up.
Members always have a habit of forgetting to tell you they want to join until right after you publish the session. SkyCourt allows you to "squeeze" them into a box with ease.
SkyCourt makes handling these mid-session changes as easy, or easier than if you were managing the league on paper or in Excel. And best of all, as soon the change is made, the other members will find out instantly without having to notify them or update the paper on the wall.
Fee tracking and payment processing
Do you charge a fee for your ladder? SkyCourt can keep track of who has paid and who still owes money.
Members who owe money will see a reminder notice on the home page tile for the league with a link to instructions on how to pay.
Payment instructions can be completely customized per ladder.
Payment processing can be handled by SkyCourt through our integration with Stripe payment processing. (a surcharge is applied to cover the cost of credit card processing)
Looking for a different type of league?
SkyCourt has many types of leagues. Each league type can be setup for any of SkyCourt's supported sports, such as Squash, Doubles Squash, Tennis (singles or doubles), Badminton, Pickelball and more.